Rockie the Frenchie is looking for a home. Adopt your best friend!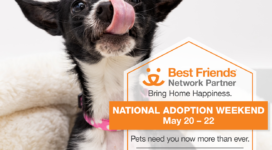 Get ready to Bring Home Happiness with The Pet Adoption Center of Orange County and Best Friends Animal Society. Thanks to Bounty, our favorite AmazonSmile Wish List item, this national adoption event brings together animal welfare organizations, like ours,...
It's our 4th anniversary month in July 2021. Join us at Starbucks in the Lowe's center in Rancho Santa Margarita on Saturday, July 17th from 10:30 am – 1 pm to celebrate and meet some of our adoptable dogs....