Don't miss the Celebration of the First Anniversary of the The Pet Adoption Center in Lake Forest! Ready to adopt a dog or cat? Join us on Saturday afternoon, June 30, from 1-4 at our center for our big adoption event featuring our pets, DREAM Animal Rescue kitties, C-S Animal Rescue, Dogs In Need Organization, and Muttly Crew dogs.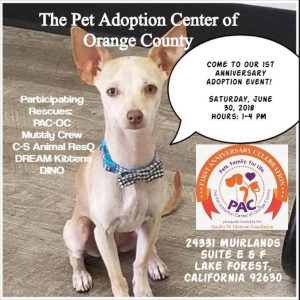 If you're not ready to adopt, stop by our Open House at the center on Sunday afternoon, July 1, from 2-5 to see what we're all about.
Ready to celebrate? Come to the Lake Forest Beach and Tennis Club next door to our center for our anniversary celebration and fundraiser, on Sunday evening, July 1, from 5-8 pm. Be sure to RSVP for this one to lynnae@adoptocpets.org, since the event is nearing capacity. We'll have a silent auction, and Boat Rides on the Lake for a modest donation.